Faced with weekly protests, Israel goes through a lot of tear gas. Officials seem to be looking to modernize these tear gas attacks, however, with a video showing the use of an Israeli drone to drop canisters of gas directly on the crowd of demonstrators.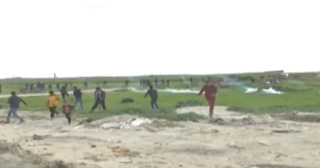 The video showed an area in the southern Gaza Strip, near the Israeli border, where Palestinians were gathered. Israel sent the drone into Gaza airspace to drop canisters on the crowd, sending them scattering.
This is the first such use of a drone by Israel. The Israeli military denied having anything to do with the incident, claiming that the border police were the ones who operated the drone.The border police denied all comment.
An Israeli military spokesman did, however, issue a statement defended the crackdown on protests within Gaza, saying they were too close to the border fence, and claiming that the protests are used as "cover" for terrorist attacks.