The Syrian military continues its offensive deeper into Eastern Ghouta this weekend, capturing Mesraba, the main town in the middle of the rebel-held region, and effectively cutting the entire district into three parts.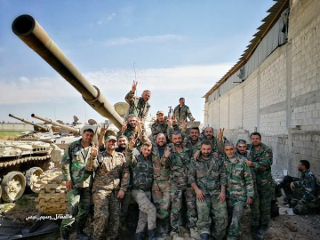 While there had been some hope that a UN ceasefire would slow the fighting in Eastern Ghouta, the Syrian Army has been scoring gains at such a rapid rate that they believe this is a winnable fight, and winnable in a short time-frame.
That's rare in Syria, with little territory changing hands in recent months. It's coming at an awful price for the civilian population, with the airstrikes against rebel territory believed to have killed in the ballpark of 1,000 civilians.
As territory falls, many civilians are fleeing deeper into what's left of rebel-held regions, but finding little aid to be had and bomb shelters full. This risks adding to the civilian toll as the Syrian military tries to mop up rebel resistance.
With territory falling, an evacuation deal might be more inevitable at this point, and the Syrian military may also feel that they don't need to rely on airstrikes to finish the offensive, and can just slowly and surely take what's left.