Questions about North Korea have long been right in Defense Secretary James Mattis' wheelhouse, as the Pentagon chief has long talked up military readiness and providing options to President Trump for attacks. With talks on the horizon, he's begging off on talks.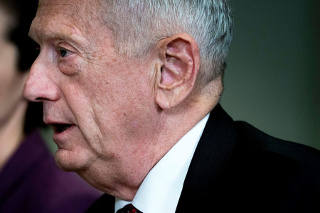 Pressed on questions about President Trump's planned meeting with Kim Jong-un, Mattis told reporters that any such questions should properly be sent to the State Department, saying he doesn't want to address the matter himself, worried about misunderstandings.
Mattis has a point. The State Department, after all, is the one that's doing all the planning for the Trump-Kim talks. He described the military as having only a "background role" in the matter at this point.
While there are few details yet on timing or location of the talks, it makes more sense for the State Department to know the latest about these aspects of the planning stages. They, and President Trump, are also likely going to be more familiar with talking points on the peace deal being sought.