President Trump has announced that an offer conveyed to the United States from North Korea by way of South Korea's visiting delegation, initially speculated to be a proposal for direct talks, is "almost beyond that," and stands to be one of the most significant diplomatic proposals in decades. The offer was announced publicly by South Korea's National Security Adviser Chung Eui-Yong.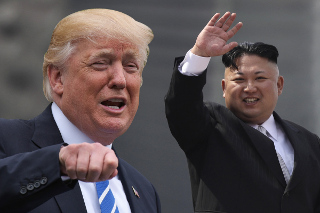 North Korea is inviting President Trump to directly meet with Kim Jong-un, with the two talking about North Korea disarming its nuclear program. North Korea added that they would pause nuclear and missile development during the talks.
South Korea's delegation of high-ranking officials visiting Pyongyang earlier this week was an historic move. A meeting between Trump and Kim would be far, far more important, which could reasonably be called the biggest diplomatic measure on North Korea since the Korean War.
President Trump was calling this Thursday revelation a "major announcement." According to Chung Eui-Yong, President Trump says his intention is to meet Kim "by May," which would be quite a rapid turnaround for such a high-profile meeting.