Just two months ahead of national elections, Iraqi Prime Minister Hayder Abadi has moved to formalize the transition away from power independent Shi'ite militias operating as Popular Mobilization Forces (PMF), and has issued a decree formally inducting all of the PMF into the Iraqi military.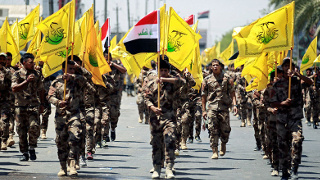 This was considered a top priority for Abadi, who wanted to separate the militias from politics by convincing political figures to distance themselves from independent militias, which many have agreed to do.
Under the plan, the militia fighters will be placed under direct defense ministry control, being given access to military colleges, and getting equivalent salaries to other members of the Iraqi military, which is expected to be a substantial pay raise for many.
At the same time, the decree places them under the same laws of military services as the actual military, a move Sunni  groups are likely to cheer, as it would seemingly mean an end to the militias operating above the law, a fact which has often meant these militias were carrying out revenge attacks against Sunni towns that had previously been under ISIS control.