UN war crimes investigators have issued a statement on Tuesday with respect to the deaths of Syrian civilians in 2017, faulting both the US and Russia for killing massive numbers of civilians over the course of the past year in airstrikes.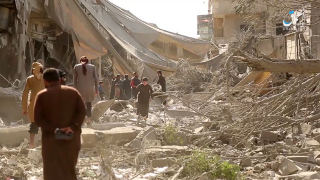 The report also made note of war-crimes by ISIS, al-Qaeda, and other insurgent groups, along with the Syrian government, but singled out multiple strikes by both the US and Russia that "may amount to the war crime of launching indiscriminate attacks resulting in death and injury to civilians."
Among the incidents mentioned in the statement were the November Russian strike in Atareb, which killed at least 84 people, along with three US airstrikes on a school near Raqqa in March which killed 150 civilians.
That the UN report confirmed 150 civilians killed in the US strikes was particularly noteworthy, because while there were reports of a death toll in that range before, the Pentagon had dismissed them, and claimed no more than 30 killed in the incidents.
The report further dismissed US claimed that ISIS fighters were at the school when it was attacked, saying there was no evidence of this, and that the US had violated international law by failing to protect displaced civilians known to be in the school at the time.
Though they are war crimes investigators, the statement notes they are not a tribunal empowered to take the investigations any further. Needless to say, crimes by both Russia and the US, as veto-holding permanent UN Security Council members, would be all but impossible for the UN to do anything about.