The White House is said to be considering a new round of military action against the Syrian government sometime soon, with recent media reports of chlorine gas exposure in Eastern Ghouta serving as a pretext for the attacks.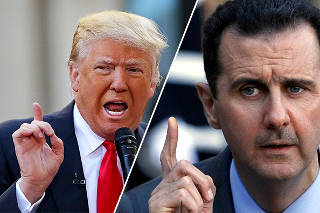 President Trump has requested the Pentagon to provide him various options for such a military attack, nominally to "punish the Assad government" over the unproven allegations of chlorine gas attacks.
That would be the second time in less than a year this has happened, as in April, 2017 the US fired a flurry of 59 Tomahawk missiles at Syria's Shayrat air base, which at the time they said was over claims of chlorine gas attacks as well.
There was never any concrete proof of the allegations which served as a basis for the April attacks, which means that while there's no solid evidence for these new allegations, that is unlikely to be an obstacle to a new US attack.
There were reports as recently as Friday that the Trump Administration wanted such attacks to be "equal to or greater than the one used last year," and while that's clearly not set in stone, such an attack is likely to further cement the US as being in open warfare against the Syrian government.