Amano Yukiya, chief of the International Atomic Energy Agency, the UN atomic watchdog, has issued a statement Monday warning President Trump that the collapse of the P5+1 nuclear deal would be a great loss for the world.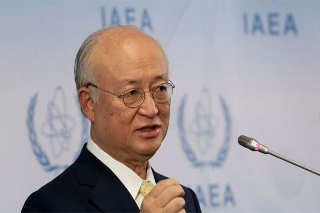 Amano, who has repeatedly issued statements reiterating Iran's compliance with the deal, has taken a position at the forefront of defending the pact, in the face of President Trump's demand for changes which threaten to tear the deal apart.
The P5+1 deal gives the IAEA a level of access within Iran that it isn't even close to enjoying anywhere else in the world, and Iran has gone to great lengths to prove that there are no military components to its civilian nuclear program.
Losing the P5+1 deal means losing all these additional safeguards agreements, and losing restrictions on Iran's civilian program which other officials sought. Iranian officials say that enrichment of uranium to 20%, which under the P5+1 deal isn't allowed, could be resumed within less than 48 hours if the US withdrew from the deal.
20% enriched uranium is not military-grade, of course, but US officials long made a big deal about Iran producing uranium at that levels, which is the level needed to fuel the Tehran Research Reactor, built by the US in the 1960's to produce medical isotopes.