A Syrian military offensive which had seized 25% of rebel Eastern Ghouta as of the weekend is now reported to have taken closer to a third of the area. The Monday push has left at least 50 killed, according to the Syrian Observatory for Human Rights.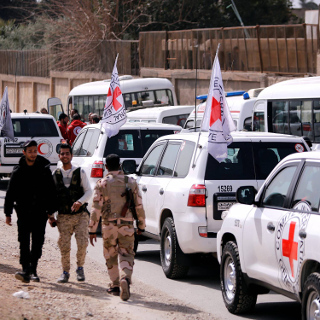 Details on the 50 killed are scant, but many are said to be civilians. The largest number of casualties were in the town of Hammouriyeh, with some also reported in Harasta. There is no news if either of the towns fell.
Eastern Ghouta is a rebel-held suburb district of Damascus, with a number of rebel-held towns. This is the last major rebel-held area this close to the capital, and the army seems to be determined to mop up remaining resistance.
In the meantime, a convoy of 40 trucks carrying humanitarian aid entered the rebel-held area, but how much was delivered is still not entirely clear. The WHO reported that the Syrian government stripped 70% of the medical aid out of the trucks, and that 10 of the trucks ended up returning from rebel territory totally unopened.
There was no indication why Syria's government restricted the medicine allowed into the area, but the things stripped included trauma kits and surgical equipment, which may suggest that they believe these would aid wounded rebels.