It is rare indeed for US officials in the know to provide more than a very nominal insight into US military operation in Somalia. Sen. Jack Reed (D-RI), on the Senate Armed Services Committee, is fresh back from Somalia, and offering a new perspective on it.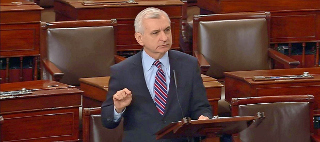 Sen. Reed, who had been a US soldier in Somalia back in the 1990s, says that the US doctrine of "disrupt, clear, and hold" is not doing so great in this latest deployment to Somalia, saying that the troops are very good at disrupting, but not much else.
Reed tried to spin this as the US not being at the "clear and hold" point yet, but also made clear that troops in the country have been trying to do both, and have been "finding it difficult to hold" Somali territory in meaningful amounts.
One of many US military operations across Africa on the upswing, the Trump Administration has greatly increased the US footprint on the ground in Somalia, and substantial increase in US airstrikes.Yet as with decades of prior operations by the US and others in Somalia, the troops are finding it difficult to imposing any lasting changes on the ground.