The White House has issued a statement following President Trump's conversations with German and French leaders, warning that they "will not tolerate the atrocities of the Assad regime" and that they'd put Russia "on notice" about the situation in Eastern Ghouta.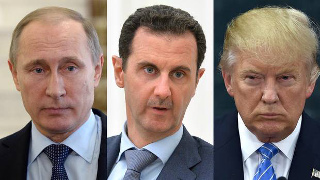 Over the past two weeks, over 600 people have been killed in fighting in Eastern Ghouta, many of them civilians killed in Syrian airstrikes. The White House says Syria, Russia, and Iran must all respect the UN ceasefire and stop fighting.
The UN statement called for ceasefires across Syria, but so far it doesn't appear to be generally honored by anyone. While fighting in Eastern Ghouta hasn't totally stopped, it has slowed a bit, and Russia has set up a five hour daily truce for evacuations.
Yet analysts see the White House statement as primarily aimed at Russia, not Syria, suggesting that President Trump might react to Russian President Putin's recent statements on nuclear weapons with new confrontations in Syria.
What that means, however, is likely to go after Syrian forces, though recent US strikes also saw them killing hundreds of pro-government fighters, including a number of Russian contractors. Still, CNAS fellow Nicholas Heras suggested the administration may be considering attacks "equal to or greater than the one used last year."
The Administration sees  the fighting in Eastern Ghouta as analogous to Syria's recovery of the major city of Aleppo in the waning months of Obama's presidency, and Trump is keen to show himself as different from Obama by being much more aggressive about the matter.