South Korean President Moon Jae-in called President Trump on Thursday to inform him of his nation's intention to send a special envoy to Pyongyang, North Korea in response to North Korea's invitation at the Winter Olympics.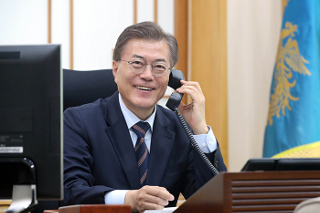 The US hasn't favored South Korea's diplomatic overtures, but President Moon has been a strong advocate of direct diplomacy, and US officials maintain there is "no daylight" between the two nations on the matter.
Moon reportedly told Trump he felt sending the envoy was necessary in reciprocation for North Korea sending a high-profile delegation to South Korea to attend the Winter Olympics.
South Korea has recently been pushing the US and North Korea to talk directly with one another as well, and though so far the US appears averse to the idea, South Korea is still hoping to advance the diplomatic track with or without them.