The International Committee for the Red Cross has issued a public statement Tuesday urging Russia to extend its daily five-hour truce in Eastern Ghouta, saying that's not enough time for convoys to navigate all the routes into the region, drop off aid, and safely get out.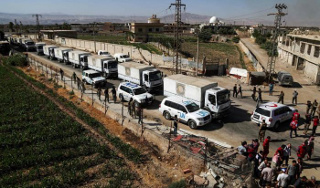 Russia didn't specifically address this, but it's likely that they would make specific extensions related to specific convoys as opposed to making every single day's truce longer, as the daily truce was likely more intended to facilitate evacuations.
To that end, the UN says that they have a list of more than 1,000 people who need medical evacuation from Eastern Ghouta, though on the first day, continued shelling during Russia's truce prevented them from actually making any such evacuations.
There were reports of fighting in two different towns in Eastern Ghouta despite the UN call for a ceasefire, though Syria contested this allegation, saying they weren't involved in any sort of fighting in those areas.