The UN ceasefire call in Syria is expected to ease the humanitarian situation in Eastern Ghouta, the rebel-held Damascus suburb which has been under massive targeting by Syrian and Russian forces over the past week. Some reports suggest that aid convoys are ready to go as soon as a few logistics are worked out.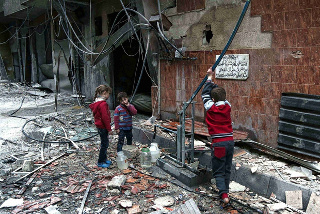 Russia is playing their part too, announcing Monday that they will be honoring a daily truce from 9 am to 2 pm, with an eye toward facilitating the evacuation of civilians and the wounded from the area.
Eastern Ghouta's hospitals are overwhelmed by the recent violence there, and medicine is in short supply, so aid convoys are also likely to look to take substantial numbers of wounded out with them when they get into the area.
The last big aid convoy, which arrived just before the latest surge of fighting, saw dozens of trucks full of aid arrive, and many patients were loaded on those vehicles to evacuate. It's likely that will be a top priority for further convoys, to get as many people out as possible.