President Trump's intention to hold a massive military parade at some point in 2018 seems to have gotten some real details Friday, with the White House having issued a memo directing the Pentagon to prepare the parade for November 11.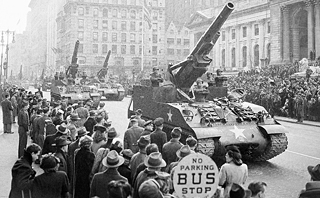 November 11 is Veterans Day in the US, but also Armistice Day, traditionally an antiwar holiday marking the end of World War 1. This makes it an awkward time to schedule a massive and likely gaudy display of US military might on the streets of Washington D.C.
Still, that's what's expected to happen, with National Security Adviser H.R. McMaster having written a memo ordering the parade to go from the White House to the Capitol building.
The whole parade notion stems from President Trump's visit to France during Bastille Day, during which he saw the French military parade and said he wanted to "try to top it" with a parade of his own on some US holiday.