Mehdi Aker, a top figure in Turkey's ruling AKP party, issued a statement Thursday accusing the Kurdish YPG of having released all the ISIS fighters they'd captured in Syria, on condition that they carry out terror attacks against targets of Turkish interest.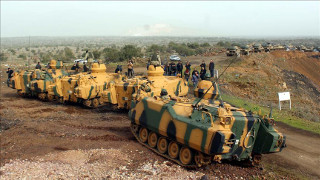 Aker and other officials claimed there is an ongoing "roundup" along the Turkey-Syria border of such people, though indications are that most of those detained are just Kurds who the Turkish government accuse of being disloyal.
Indeed, there is no evidence that the YPG did any such thing, or even that they had such a huge cache of ISIS detainees that they could've thrown them at Turkey for the sake of resisting the invasion.
The claim seems mostly a continuation of Turkey's narrative that the YPG are "terrorists" on the same scale as ISIS, with the hope that this will provide a pretext for continuing the war, as well as scare anyone away from packing the Kurds.