The first pro-government militias arrived in Syria's Afrin District Tuesday, and immediately came under attack from the Turkish military. More arrived Wednesday, and by Thursday the first militias reached the front lines.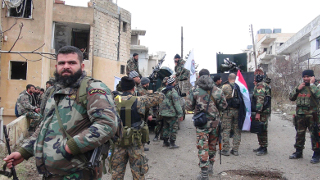 The Kurdish YPG cheered the arrival of these reinforcements, but warned that they were insufficient with Turkey throwing its military at them, pushing for Syria's Army to get directly involved.
YPG spokesman Nouri Mahmoud says that the Syrian Army has a duty to protect the nation's borders from invasion, and that the militias are not in the quantity or capacity to resist the Turkish force.
Turkey has threatened major consequences if Syria dares resist the invasion, and that seems to have the government reluctant to get directly involved, at least for now. With Turkey having endorsed regime change long ago, Syria may ultimately decide to get involved, however, feeling there is little more Turkey can do to them than what they're already doing.