The first of Syria's pro-government fighters arrived in the Afrin District Tuesday to support the Kurdish YPG in resisting a Turkish invasion. The fighters immediately were attacked by Turkish artillery.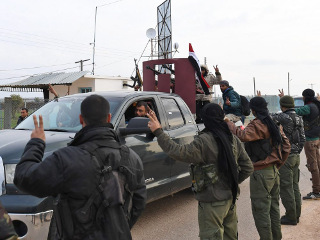 On Wednesday, yet more fighters loyal to various "popular forces" Shi'ite militias pushed into Afrin to join the effort, vowing they would continue to support the local Kurds against the "continued aggression of the Turkish regime."
Turkey's spokesman Ibrahim Kalin warned that any attempt by anyone to enter Afrin to resist them would "surely have serious consequences," Strikes against Syrian forces risk having a massive impact on the entire Syrian War.
The Kurdish YPG, after all, has been a divisive force, with most rebels not liking them, but them long being close with the US. Direct fighting between Turkey and the YPG, if it brings Syria onto the Kurdish side, risks forcing many other factions in the region to choose sides, risking Turkey's rapprochement with Iran and Russia, both close allies to Syria, and the US support for the Kurds, since the US is also determined to impose regime change.