Locals in northern Yemen's Saada Province report that at least 15 civilians were killed and several others wounded in a Saudi airstrike against a highway just south of the provincial capital, hitting multiple vehicles.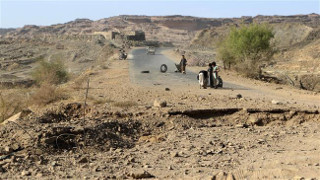 The strike destroyed two cars and a truck. None of the victims were identified, nor did Saudi Arabia offer any statements on why they attacked the target in the first place. Saada is the home province of the Shi'ite Houthi movement, and is commonly attacked over the course of the Saudi war.
Saudi airstrikes, particularly in areas so far from the battlefield, have tended to kill civilians almost exclusively, with very few combatants present in these areas, and Saudi forces making little apparent effort to select targets.
These civilian casualties, and the length of the war, are fueling growing international criticism for the war, which has caused a worst-in-a-generation humanitarian crisis in northern Yemen.
Last 5 posts by Jason Ditz