In 2015, a considerable diplomatic scandal between Turkey and Iraq emerged, when Turkey sent a number of soldiers into Iraqi Kurdistan to support Kurdish forces against ISIS. The Iraqi central government complained the deployment was a violation of sovereignty, and the troops were not invited.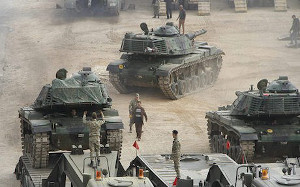 ISIS is defeated, but Turkey's troops are still there, and the Iraqi government are still not happy about it, with Iraqi Ambassador Haydar Hadi calling them "invaders," and confirming the matter had been brought up to the Arab League.
How much impact this will have is unclear, as Ambassador Hadi is the ambassador to the Russian Federation, but this may show Iraq is trying to prevail upon Russia to bring this up at upcoming regional conferences with Turkey.
Turkey insists their parliament authorized the initial deployment, and has approved the extension, though the troops are in Iraqi territory, and not welcome. This is likely to be a growing issue as Turkey's use of force against Syrian fighters for resisting their invasion, raising concern of growing regional ambitions.