Russia's Foreign Ministry offered a surprising confirmation on Tuesday, saying that indeed "dozens" of the people killed in a recent flurry of US strikes against pro-government forces in Syria were either Russian citizens or citizens of other former Soviet states.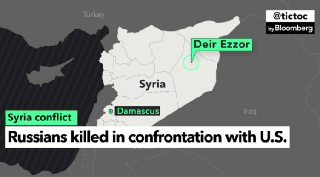 Reports are that hundreds of people were killed in the US attack on February 7, which the Syrian government described as a "massacre." The slain were contractors for the ChVK Wagner company, which is employed by Syria's government.
Russia has insisted that none of the slain were Russian military personnel, but had previously said only five Russian citizens were killed.  As recently as yesterday, Russian Foreign Minister Sergey Lavrov was calling reports of more Russians killed false propaganda.
US officials said that the killings were done "in self defense." They suggested that the contractors had fired shots about half a kilometer from a base US troops were stationed at, and that they responded with intense shelling and strikes.
Last 5 posts by Jason Ditz