The UN Security Council meeting on the Mideast peace process saw a testy exchange Tuesday between Palestinian President Mahmoud Abbas and US Ambassador Nikki Haley, with Abbas saying he views the US as having abdicated its commitment to a peace deal.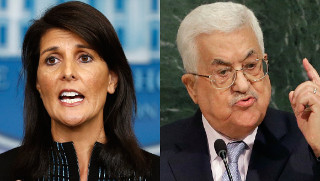 Abbas noted that he met with President Trump and other US officials repeatedly in 2017, and that at this point they can't even get a commitment from the US on whether peace will mean a two-state solution or permanent Israeli occupation of Palestine.
Haley shot back that the US negotiators were present at the meeting, and suggested Abbas talk to them, saying the US isn't going to "beg" the Palestinians to negotiate. Ironically, Abbas didn't get the chance, because the US negotiators were ferried behind closed doors immediately after to take questions from the UN Security Council members.
Abbas, for his part, urged the UN to organize the next attempt at getting peace talks going, saying it was too big of an issue to count on a single nation like the US to try to orchestrate the whole thing.
Palestinian confidence in the US as arbiter cratered after President Trump endorsed Jerusalem as Israel's capital. The situation has only worsened since, with Trump sanctioning and condemning the Palestinians repeatedly.
Last 5 posts by Jason Ditz