At least 29 people, mostly Afghan police, were killed on Tuesday in a series of attacks across Afghanistan, with the largest attacks hitting the Farah Province, where the Taliban targeted multiple checkpoints.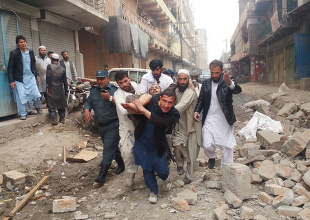 Taliban fighters hit two highway checkpoints early in the morning in Buluk District, in Farah, killing 16 police, then hit another checkpoint inside the provincial capital, killing five more. Four police are also reported missing after the string of the attacks.
Five more police were killed in Helmand Province in another Talibn attack on a checkpoint overnight, though when the Taliban issued a statement of responsibility, they'd claimed to have killed "dozens" of police and captured 10 others.
Rounding out Tuesday's violence was a mysterious explosion at a hotel in the city of Jalalabad, which killed three civilians. Jalalabad has recently been targeted by ISIS fighters, though as of yet officials aren't saying what happened there.
Last 5 posts by Jason Ditz