Backed by US drone strikes, pro-Saudi troops loyal to the southern Yemeni government attacked territory controlled by al-Qaeda in the Arabian Peninsula (AQAP) in the nation's southeast, near Mukallah.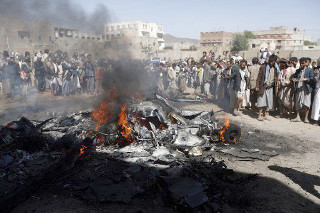 Gen. Faraj al-Bahsani, the nominal governor of the province, claimed the army seized the Mesini Valley in the course of the fighting. 27 were reported killed, including eight soldiers and 19 AQAP suspects.
This area, around the port city of al-Mukallah, was all seized by AQAP at the start of the Saudi-led invasion of Yemen in 2015. The invasion exclusively targeted Shi'ite forces, and meant the Shi'ite Houthis could no longer defend the region from AQAP's advances.
It wasn't until well deeper into the war that pro-Saudi forces started thinking to try to check AQAP's territorial gains, and even at this point the group retains substantial territory across rural Yemen, areas not always readily accessible to invading armies.
Last 5 posts by Jason Ditz