As details continue to emerge of last week's US attacks on pro-Syrian forces, it appears that dozens, or by some accounts scores, of the slain were actually Russian military contractors working for the Syrian government. The raises the stakes about US attacks in Syria fueling a direct conflict with Russia.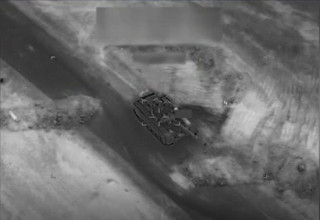 Over the weekend, the US struck again, with officials now confirmed that a US MQ-9 Reaper drone attacked and destroyed a Russian T-72 tank in Eastern Syria, in what US officials are claiming was an act of "self-defense."
Lt. Gen. Jeffrey Harrigian says the drone saw the tank "that took a shot at us," and that he believes the US rules of engagement allowed for the tank to be destroyed in self-defense to protect the drone. Three people within were killed.
As to who they killed, US officials are no more forthcoming than they ever are, with Lt. Gen. Harrigian saying the US is "not going to speculate" on who they killed, and that they flat out don't know whose tank it was, or who was driving it.
Which isn't a great excuse because tanks are usually well-marked as to their owners/operators, and while both Russia and Syria are two of the top three extent operators of such tanks, there are massively different ramifications for the US to have destroyed a Syrian tank of Russian origin or to have deliberately attacked and destroyed a Russian tank.
While the US has claimed all of its recent attacks on pro-Syrian forces in the country as "self-defense," the claim rings hollow since they've killed in excess of 100 people while sustaining no casualties of their own, and doubly so in this latest case because they were defending a drone by killing three soldiers of unknown origin.