As Turkey's invasion of northern Syria's Afrin District continues to slowly expand, some Turksih forces are getting close to the city of Manbij, on the Euphrates River, which Turksih President Recep Tayyip Erdogan says will be their second stop in the anti-Kurd invasion.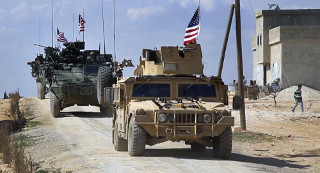 Manbij is a potentially explosive situation, not just in that it's a major city the Kurdish YPG captured from ISIS, but it is also a city that has a presence of US ground troops embedded with the Kurds, putting the US and its NATO ally Turkey on opposite sides.
Turkish officials have warned the US to stay out of the way, saying they won't be responsible for US casualties they inflict. Pentagon officials have insisted the troops aren't going anywhere, which meas this could quickly turn into a fight between the two nations.
This has been a long-standing problem for the US and Turkey, who have been at odds over the fate of the Kurds. As unthinkable as a fight between NATO members would seem, with neither side willing to give an inch, it may be unavoidable.