Several weeks into Turkey's invasion of northern Syria's Afrin District, the push into the Kurdish-held territory is struggling, with heavy resistance and mounting casualties among not just Turkey's FSA allies, but Turkey's own military.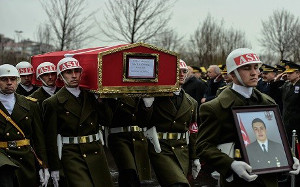 Saturday was the deadliest day for Turkish forces in Afrin, with 11 Turkish troops killed. Another soldier was killed on Sunday, bringing the total toll for the operation since January 20 to 31 killed.
Turkey appeared to expect a quick overrun of Afrin and Manbij before pushing into the more heavily defended YPG territory to the east, but rough terrain and Kurdish mobilization of locals to defend their territory has kept Turkey from making major ground advances.
Turkey has intensely cracked down on opposition to the war domestically, but if they start sustaining mounting casualties, it's going to be difficult for the Erdogan to keep the public quiet about the offensive.