Defense Secretary James Mattis today joined US efforts to downplay the diplomatic progress being made at the Winter Olympics, accusing North Korea of trying to "drive a wedge" between the US and South Korea, and insisting they would fail.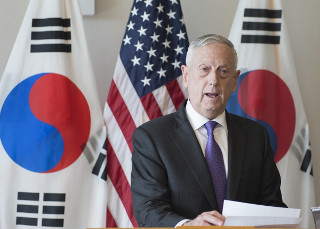 Mattis said he doubted the diplomatic efforts would have any traction "once the Olympics are over," while scoffing at the idea North Korea would even want better ties to South Korea, insisting Kim Jong Un has called them "an American puppet."
Other US officials have been dismissing the idea of improved ties on the Korean Peninsula, with Vice President Mike Pence attending the Olympics specifically to not shake hands with North Korea, and tell reporters the US doesn't think diplomacy will work.
Mattis cited a recent meeting with South Korea's Defense Minister where they both agreed that the US and South Korea are united against North Korea. South Korea's president, an outspoken supporter of diplomacy, has continued to pursue talks irrespective of US objections.
Last 5 posts by Jason Ditz