In another move that underscores major diplomatic progress made on the Korean Peninsula, North Korea has extended a formal invitation to South Korean President Moon Jae-in to visit Pyongyang at the "earliest date possible." This comes after a public handshake between Moon and North Korean delegation head Kim Yo-jong, the sister of Kim Jong-un.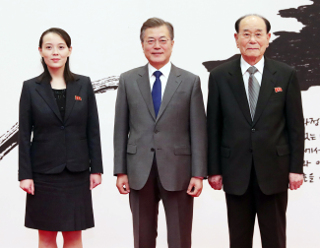 Moon didn't immediately accept the offer, but suggested he was willing to have such talks under the "right circumstances," while trying to use it as leverage to get North Korea to agree to direct talks with the US.
Though North Korea has expressed openness to talks with the US with Russia as a mediator in recent months, US opposition seems to have soured such efforts. Moon's efforts, likewise, come with the tacit assumption that the US still isn't going to be on board.
Vice President Mike Pence is in South Korea with the rest of these officials for the Winter Olympics, but his visit has been overshadowed by the diplomacy going on. Pence, for his part, has mostly made news walking out of dinners and not shaking hands with people.