History was made Friday, as South Korean President Moon Jae-in shook hands with Kim Yo Jong, the sister of North Korean leader Kim Jong Un, as part of the opening ceremony of the Winter Olympics.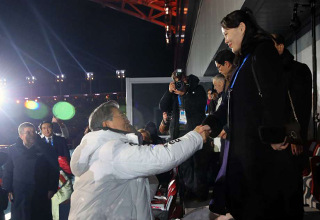 Kim is leading the highest level delegation of North Koreans to have visited South Korea since the two countries were first divided, and there is a big focus on mutual calls for unity and understanding, as the countries' athletes marched together under a common flag.
Even the dessert served at the dinner reception was symbolic, a blue chocolate map of the Koreas divided by a dark chocolate piece of barbed wire. Guests were encouraged to pour white chocolate on top to dissolve the barbed wire.
US Vice President Mike Pence, present at the reception, walked out when the dessert was presented. He shook hands with all present VIPs, except notably for anyone from North Korea. South Korean officials said the event was still a success, despite the "bump" caused by Pence's walkout.
Last 5 posts by Jason Ditz