The latest brief government shutdown in the US on Friday has resulted in a new budget deal which cements not only the huge 2018 budget, but also a promised military spending increase for 2019.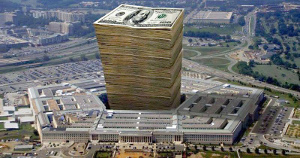 This means in excess of $1.4 trillion in promised military spending over the next two years, with $700 billion in 2018, and at least $716 billion in 2019, a number analysts say was far beyond what anyone thought was possible for a guarantee.
That $716 billion, after all, is just the baseline increase agreed to now, and if there's one thing the House and Senate can be relied upon to do, it's to spend  weeks trying to one-up each other on a final military bill that ends up spending more than anyone had ever requested in the first place.
Pentagon officials seem most excited about it being a guarantee, which might preclude them having to do a little song and dance before the right Congressional committees later this year, and which analysts say is a "big win for defense hawks," who always want more money irrespective of what it's being spent on.