Airstrikes were carried out on Tuesday against the village of Tarmala, in the northern Syrian Idlib Province, with the Syrian Observatory for Human Rights reporting at least five civilians killed in the attack.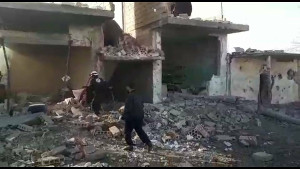 Details are still scant, as to whether this is a Syrian Air Force strike, or a Russian strike. Both are regularly active in Idlib, though there has been no accounting of it being either the one or the other.
The Syrian Observatory only said that the death toll was expected to rise in the village, which is south of the provincial capital, and in the area not far from where Syrian ground troops are pushing an offensive.
Idlib remains the largest rebel-held territory within Syria, with a stockpile of different rebel factions, many brought in through evacuation deals elsewhere, all in close proximity. Infighting, has been common there, and the Syrian offensive is adding substantially to the fighting there.