With the Saudi invasion of Yemen turning sour and causing a humanitarian disaster, and the US having withdrawn most of its troops from the country early in that invasion, US officials have largely sought to downplay their military involvement in Yemen.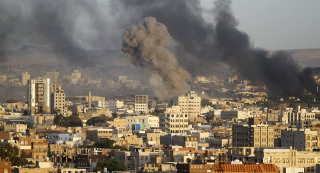 In reality, however, the number of US airstrikes being carried out has increased precipitously since President Trump took office, with 21 airstrikes on Yemen reported in 2016, and a more than sixfold increase leaving the 2017 figure at 131 strikes. 10 have been reported so far in January of 2018, suggesting that the escalation continues.
The strikes are theoretically targeted at al-Qaeda in the Arabian Peninsula (AQAP) and ISIS, though in practice with US troops in Yemen only "intermittently," according to the Pentagon's own accounting, it's difficult to see how officials could know with any certainty what is being targeted by US warplanes, beyond being remote areas where such factions are believed to be operating.
Yet war-torn Yemen is in such a state, and so many factions are operating in so many places, that even with reliable intelligence it would be difficult to know exactly who is where, or what is being struck. As it stands, the US strikes are far less certain, with little sign from officials on what evidence they even require before ordering such attacks.