Turkey's Erdogan government brooks little dissent in the best of times, and also really doesn't like Kurds very much. Unsurprisingly, those criticizing their new war against Syria's Kurds are facing a severe and ugly backlash.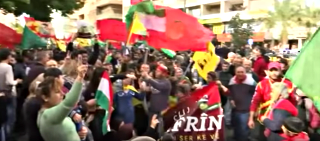 At least 311 people have been arrested so far for expressing opposition to the war, most of them for criticizing it on social media. They are facing charges of spreading terror propaganda for being antiwar.
President Erdogan angrily attacked those who oppose the war as "real filth," saying it was an "honorless stance" to oppose the invasion. He also accused the nation's medical union of teeason for a statement criticizing the invasion, calling them a "gang of slaves."
The detainees are likely to face open-ended imprisonment, added to untold tens of thousands of dissidents already swept up in various other purges by the Erdogan government. Unsurprisingly, ethnic Kurds are the most heavily targeted in these arrests, and opposition politicians and journalists in particular most singled out.
Last 5 posts by Jason Ditz