Faced with a new round of threats by President Trump to cut aids on Thursday, Palestinian chief negotiator Saeb Erekat declared Friday that peace talks with US involvement are "off the table" unless Trump reversed his declaration that Jerusalem is Israel's capital.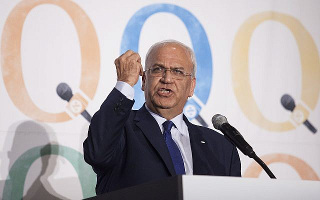 The "off the table" was a very deliberate phrase, as Trump had previously declared himself to have made Jerusalem "off the table" in future peace talks, trying to present it as simplifying matters. As the Palestinians also claim much of the city, Trump unilaterally declaring it all Israeli is not exactly helping the process.
Indeed, Erekat said Trump has disqualified the US from playing a role in the peace process, and said his declaration should be a "wake-up call" for Arab leaders that the US is dealing unfairly with Palestine, blackmailing and punishing the Palestinian people for insisting on human rights per international law.
The position appears nearly optimal for Israel's far-right coalition, as talks weren't going either way, and now, with Trump's declaration, the Palestinians anger can be spun as proof that the lack of talks is wholly the fault of Palestinian leadership.
Last 5 posts by Jason Ditz