Going off the script in remarks to the press Thursday in Davos, President Trump announced that the US will no longer provide any monetary aid to the Palestinians in any form, unless the Palestinian leadership agrees to enter peace talks with Israel.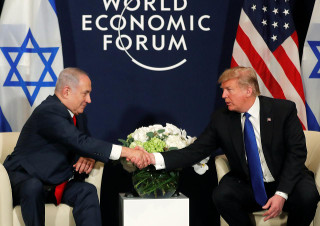 Though there was no sign peace talks were about to resume at any rate, President Trump's declaration that Jerusalem is Israel's capital led Palestinian leadership to reject the idea of any US-mediated talks being possible.
Trump, however, is presenting the Jerusalem declaration as making things simpler, in that Jerusalem is now "off the table," and that reduced the amount of important issues yet to be resolved.
US Ambassador to the UN Nikki Haley also issued a statement condemning Palestinian President Mahmoud Abbas, saying that he lacks the "courage" to seek a lasting peace with Israel.