Turkey announced Monday that they are continuing to intensify their invasion of the Afrin District in northern Syria, a district held by the Kurdish YPG. Turkey began shelling the area on Friday, and invaded over the weekend.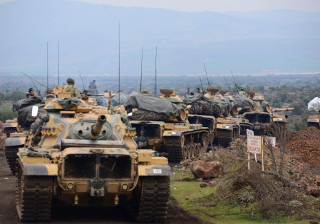 Fighting raged throughout Monday, with the Kurdish YPG reporting that they'd retaken strategic areas they'd lost earlier in the fight. Turkey also confirmed their first soldier to have been killed in the fighting.
The Syrian Observatory for Human Rights reported 54 killed overall in the fighting, including 19 Turkish-backed fighters, 26 Kurds, and a number of unidentified people. They also reported 22 civilians killed, though Turkey's Foreign Ministry dismissed those as Kurdish lies.
Turkish President Recep Tayyip Erdogan said Turkey remains determined to take Afrin from the Kurds, saying there is "no turning back" now that the invasion has started, while other officials said they expect a quick victory in the fight.