With the first Turkish troops crossing the border into Syria's Afrin District to attack the Kurdish YPG, something the US had long warned against, the US State Department has issued a statement urging Turkey to "exercise restraint" in the operation.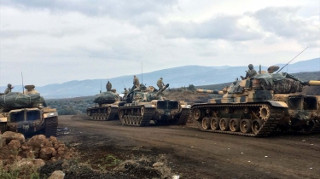 State Department spokeswoman Heather Nauert says that Rex Tillerson called Turkey to call on them to limit the operation in "scope and duration," and to avoid civilian casualties. That's unlikely, however.
Turkey has presented the war against the Kurdish YPG as a war on terror, and has suggested Afrin is just the start of several pushes across the country, trying to get the Kurdish force off the Turkish border, an operation likely to be a long-term one.
The US has heavily armed the Kurds throughout the Syrian War, but are also allied with Turkey as fellow NATO members, and has also armed the Free Syrian Army (FSA), which is allied with Turkey in the fight. As so often in the Syrian War, this means the fighting is between US allies.