Heavy fighting was reported today in the Libyan capital of Tripoli, with much of the conflict happening near the airport. At least 20 people were killed, the airport was shut down, and several planes were badly damaged.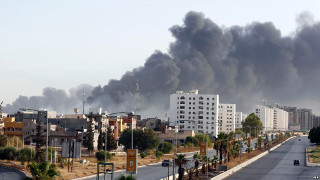 The "unity" government issued a statement amid the fighting claiming to have the situation well under control, and accusing a rival faction of trying to attack a prison not far from the airport to free some of its followers.
Fighting lasted into the early evening, however, and reports on the ground say an A319 plane was hit with artillery fire, with four other aircraft suffered smaller amounts of damage and were likely to need repairs.
Both factions involved in the fighting are based in Tripoli,but in different neighborhoods. The pro-government forces were from the "deterrence force," which controls the airport and prison, while the other side was a militia from Tajoura neighborhood.