Delegations from North and South Korea will be meeting in the Panmunjom truce village on Monday, according to official statements, in what are being described as "working talks."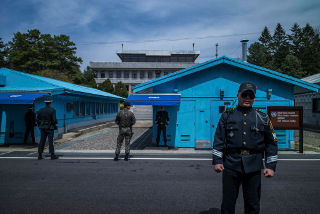 This is the second round of talks to be held at the village this month, after over two years between direct talks. The talks between the two are a major breakthrough, aimed at reducing tensions after months of fears of an imminent war.
The "working talks" are a continuation of the one thing agreed to in the previous talks, the North Korean participation in next month's Winter Olympics. The meeting is expected to hammer out details, potentially including North and South Korea fielding a common ice hockey team.
Whether or not they have the same ice hockey team is really of little import, but the fact that the two nations are able to hold such negotiations at all is a hugely positive sign, and the Winter Olympics are just a relatively safe topic to broach as bilateral relations are repaired.