Having repeatedly threatened such an offensive in the past, Turkish President Recep Tayyip Erdogan has announced that a Turkish invasion of the Afrin District of northern Syria, held by Kurdish YPG forces, will be launched in the coming days.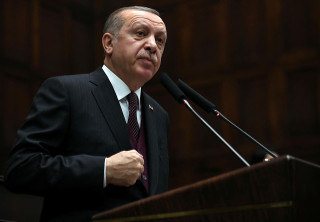 Afrin has long been held by the YPG, nut not connected to the rest of the YPG's territory in Syria. There have been exchanges between them and Turkish troops a few times over recent months, but the invasion has yet to happen.
The US has long tried to keep Turkey from attacking the Kurds, but Erdogan is now saying that he expects the US to "support" this operation, which he says is being done to "purge terror" from the border region.
Erdogan has long insisted he considers the YPG to be terrorists on par with ISIS, which has meant US support for the Kurdish group has caused a lot of tensions between the two sides. With US support for a new Kurdish border force, Turkey may believe chasing them out of Afrin needs to be done sooner, rather than later.