Iran's Revolutionary Guard has been deployed to protest hotspots across the nation, saying they've been charged with quelling "sedition" nationwide. Protests are still being held across the nation, though Tehran is said to be unusually calm.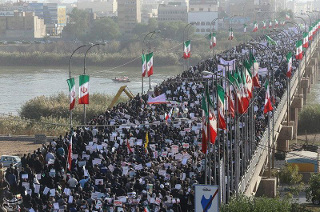 The city of Piranshahr was decidedly less quiet, with the Revolutionary Guard issuing a statement reporting that three of their intelligence agents were killed in a fight with "anti-revolutionary elements."
Though they didn't elaborate on what that meant, this presumably means a fight with protesters. This has become increasingly common over the past few days, as early peaceful protests are increasingly intermixed with elements willing to fight against security forces.
Calm in Tehran, and reports of larger pro-government rallies in some places, may suggest that some of the momentum is running out on this protest movement, and just a week into the demonstrations, Iranian officials are likely better off trying to wait out the protests instead of risking more provocations with further crackdowns.