Speaking on ABC's "This Week" on Sunday, former Joint Chiefs of Staff Chairman Admiral Michael Mullen suggested that the US is closer to being in a nuclear war with North Korea than ever before.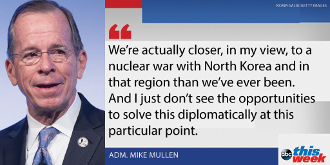 Mullen suggested that this was because America's enemies, including North Korea, are "taking advantage" of uncertainty surrounding President Trump's leadership, and that has raised the possibility of a nuclear exchange.
Mullen suggested that former generals in the administration, including James Mattis, H.R. McMaster, and John Kelly have been trying to reduce the uncertainty by making Trump go against his instinct, but expressing doubt about the sustainability of that.
Mullen went on to fault former President Obama for having diplomatic ties with Iran, suggesting the US should've done more to support the 2009 protests in Iran, suggesting the current protests provide a second opportunity to do so.