Iran's protests have entered their sixth day with mounting violence and clashes, as death tolls continue to mount. At least nine Iranians were reported killed overnight on Monday in Isfahan Province, which has seen some of the highest violence.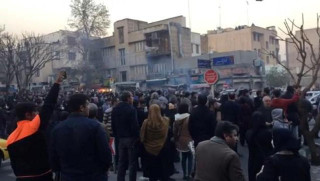 This brings the overall death toll of the protests to at least 23 killed, the vast majority of which were killed over the past 48 hours, as the violence has soared, and rallies increasingly involve raids of police stations.
The protests began, now nearly a week ago, as economic ones, with Iranians expressing growing disquiet about the rising inflation and unemployment rates in the country, having expected the nuclear deal and removal of sanctions to create more immediate economic opportunities.
Violent crackdowns on these rallies quickly turned things political, and even as moderate reformists like President Rouhani sought to defend the right for peaceful protest, security forces seemed to be more aggressive in crackdowns.
Iranian Supreme Leader Ayatollah Ali Khamenei has increasingly sought to present the protests as the result of foreign enemies trying to foment unrest, saying they are using "money, weapons, politics, and security apparatus" to create problems in Iran.
Last 5 posts by Jason Ditz