In new comments Monday, North Korean leader Kim Jong Un sought to clarify his nation's position amid mounting tensions, insisting that North Korea's nuclear weapons are exclusively for use if the country is threatened.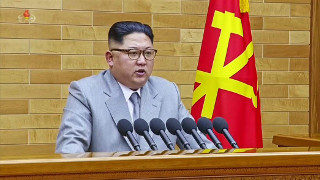 Kim went on to say he believes both North and South Korea must make efforts to reduce military tensions in the region, and that he is "open to dialogue" with South Korea's government, a potential major breakthrough.
South Korea's President Moon Jae-in, elected in summer, has been an outspoken advocate of diplomacy with North Korea, and Kim's comments suggest an openness which so far hasn't been seen in the face of Moon's previous overtures.
Kim also raised the possibility of North Korea participating in the Winter Olympics, which is in South Korea this year. President Moon has suggesting holding off on US war games until after the Olympics to try to reduce tensions.