Expectations of a Syrian military offensive against the Idlib Province, the last major rebel-held territory in the country, looks like it may have erupted late Thursday, with a push against the al-Qaeda held territory around al-Tamana.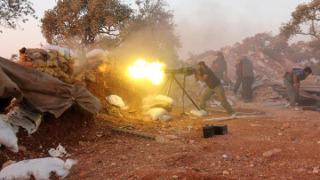 The result was intense fighting which continued to escalate throughout Friday, with at least 68 people reported killed and dozens wounded in the ongoing fighting, according to reports out of the area.
According to the Syrian Observatory for Human Rights, 21 of the killed were civilians, who they said were slain in the course of airstrikes intended to back the military offensive. So far it doesn't appear much territory has changed hands.
Islamist rebels in the area have urged locals in the various villages around al-Tamana to stay indoors to avoid getting caught up in the airstrikes. Locals described the airstrikes as the most intense in months.
Idlib Province is the last province held predominantly by rebels, and having been the site evacuated rebels have been sent to for months, there are a lot of different armed rebel factions in the area, and many see it unlikely there'll be another place to withdraw to if this battle goes poorly, setting the stage or a long, bloody battle.