In October, President Trump refused to certify Iran's compliance with the P5+1 nuclear deal. Though the UN and the other nations all agree Iran is actually complying, Trump said the deal was objectionable, and decertified to give Congress a chance to withdraw the US from it.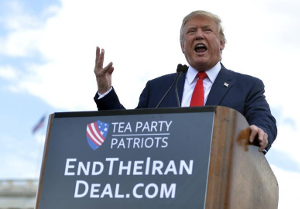 It's been almost 90 days since, and President Trump will have another certification deadline on January 11. He's not expected to certify again, but he's also said to be mad Congress didn't withdraw from the deal, and may try to withdraw the US unilaterally.
With some of the sanctions waivers also up in the week that follows certification, President Trump may attempt to reimpose the pre-deal sanctions. The US would be in violation of the deal, even if they didn't withdraw formally.
The hope from Trump and other opponents of the deal is that if the US starts flagrantly violating the deal, Iran may also withdraw, and the US could use that as a pretext for a military confrontation.
That's unlikely, however, as since October, Iran and the rest of the P5+1 have all discussed ways to keep the deal in place without US participation. Supporters of the deal have long warned a US pullout would just hurt US credibility.