With over 70 civilians killed in the previous two days in Saudi airstrikes against Yemen, Saudi attacks continued apace Tuesday, hitting another marketplace full of civilians, this time in the central city of Taiz.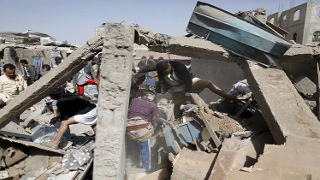 Locals confirmed that the attacks on the marketplace killed at least 25 civilians, including children, and wounded at least 30 others. Saudi officials as usual offered no details on why a market was attacked.
Taiz however, has been hotly contested throughout the war, and there were some claims that a handful of the slain might have been fighters from the Shi'ite Houthi movement, which may have been the intended target.
On the main road between Aden and Sanaa, Saudi-backed forces initially saw Taiz as the go-to route for their offensive in the country, advancing north toward the capital. Over 1,000 days into the conflict, those forces have tried several different routes, splitting the country roughly in half, and showing no signs of the war slowing down soon.