Having made a surprise visit to Afghanistan on Thursday to meet with Afghan leaders and US troops, Vice President Mike Pence is talking up "progress" in the 16+ year Afghan War, crediting the new strategy.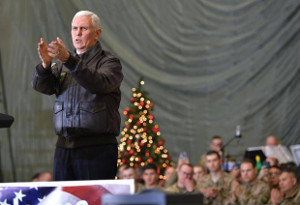 Back in August, President Trump set out a "new" strategy, which was just a general escalation of the conflict, with an unspecified number of additional ground troops deployed, and a substantial increase in US airstrikes.
Pence said the situation is "promising" now, saying that the Taliban have been put "on the defensive," though of course the Taliban have been in defensive situations several times during the protracted war.
US officials have many times during the course of the war claimed progress against the Taliban, but the Trump Administration's ever-increasing secrecy about the strategy, troop levels, and day-to-day operations, it is very difficult to gauge by what measure they think things are improving at all, with Taliban territorial holdings still near their highest level since the 2001 invasion.