At least 11 people were killed and 19 others wounded Wednesday, all civilians, when Saudi warplanes attacked the northern Yemeni city of Saada, hitting the city's Old Qarter and following up with strikes against the medical workers attempting to rescue victims.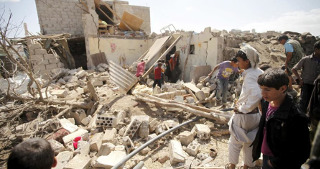 Saada is a mostly Shi'ite city, and the traditional center of operations for a Shi'ite Houthi movement. That has meant Saudi forces have regularly targeted the city throughout the war, with little regard for who is being hit.
Saudi officials offered no indication of what was being targeted in the Wednesday strikes, which isn't unusual for Saudi strikes in recent weeks, which seem to be increasingly aggressive and with little military value.
The mounting civilian toll, both of the airstrikes and of the Saudi blockade of humanitarian supplies, and food, from northern Yemen is fueling growing international condemnation for the conflict, though the Saudis have shown little interest in changing tack.